We've been back for two weeks now and I still don't know how to answer the question "Why did you like Australia so much?" So many images and experiences come to mind that I can't find the right word to pack them all into.  As I hesitate my face probably takes on the glow I saw on the faces of those of my students, who had been there before me.  "You'll love Australia!" they all said with the look of someone who's just got out of bed after a wonderful night.  I didn't understand that look then.  But maybe if I describe some of our experiences, you will get a feeling for what it is that makes the fifth continent so special.
The first time I held my breath was flying over Australia, on the way there from Singapore to Perth.  A  cloudless, empty moonscape of reddish formations. Along the coast, wide white sand dunes swirling above and below the water.  Half an hour north of Perth, the first signs of civilization:  thin straight lines of roads, huge fields delineated in an Aztec pattern, brick red squares set into areas of even darker reds, then the first forest green, the fields changing to brown.
PERTH.  A hot summer afternoon in January.  Driving in from the airport:  "It's a bit like the US!". Our attempt to integrate the new.  As we turned the key of the studio we had booked, the sound of a didgeridoo met us.  Michael, of course!  We had sent him our address but had not heard from him.  What a nice welcome on a new continent!  Michael, who had already been there for more than two months, was now the expert and eager to take us out for a beer to tell us his story.  We jumped on the free city bus and were quickly in the centre. After the second beer, a plate of wedgies with sour cream and a bruscietta, we could see why Michi's face was so much fuller (not only his face!).  After hours of travel tales, we understood - Michael was having the time of his life!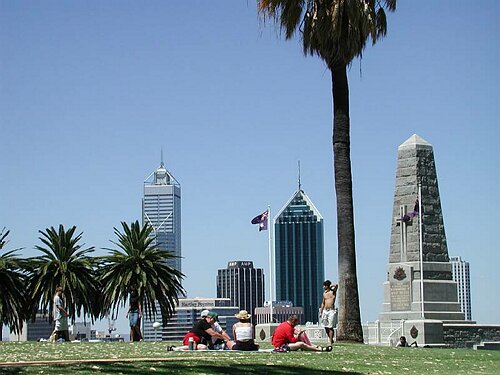 The business center of Perth - bright, well-designed high-rises connected by walkways and attractive plantings, interspersed with historic 18th and 19th century buildings.  Many pedestrian zones and arcades, a comfortable bustle. Apartment buildings - modern brick or Victorian - on a human scale of two or three storeys, the restaurant area with heavy Asian influence, streets and parks clean, making Perth a very `liveable' place.  King's Park above the city, my favourite place, overlooks the business center to one side, waterways to the other.  It's a place for weddings, parties, picnics (Australians must be world champions in picnics: elaborate affairs with cooled wine, proper wine glasses, salads and dips, fruits and cheese).  We sat under a tree and just watched - kids running in and out of the spray of a fountain and getting soaking wet - a green parakeet on the branch above our head - a stage being set up on the grass, another under the trees further on, both for Midsummer night's Dream that night.  With picnics all around us (we had a pitiful cheese sandwich and no wine) we sat on low camping chairs and enjoyed this very professional and entertaining performance by a Melbourne company.  The setting was ideal, an immense black sky for act one, the shadows of huge trees for act two, the air warm - a night like liquid silk.  Walking back through the park around midnight, we lay down on the grass, the lights of Perth, the dark river, at our feet, behind us the tall trunks of eucalyptus trees reaching into the immense southern sky stretching above us.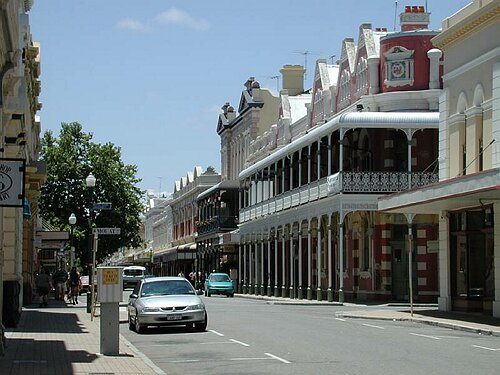 A two-hour boat trip down the Swan River to Fremantle.  Along the water's edge huge mansions competing for elegance or ostentatiousness.  We had lunch in a cafe just in front of what was the tiny prison for incoming slaves.  I had warm Turkish bread with hummus and sun-dried tomatoes, Michi a bruscietta, Colin his always-favourite tuna-fish sandwich.  The ice-cold tap water arrived in a bottle of yellow frosted glass and was replenished without request.  Fremantle is quite a tourist town:  the historic center a criss-cross of streets with carefully renovated or re-built 19th century houses, many with the ornate cast-iron balconies typical of New Orleans (we saw variations of this ironwork decorating porches all around Australia).  The small maritime museum was a real gem, especially the partial hull of a Dutch 17th century ship wrecked along the Fermented coast.  It was pure chance that the replica was still in Sydney Harbour when we were there before being taken back to Holland.
We rented a car and together with Michi we drove due south for 4-5 hours. Little traffic, where you stop for a bite to eat is where you stop for gas - and you'd better do that when you see a gas station.  Good sandwich, clean toilet - with shower!  An hour later, a small town.  Colin bought sunglasses and an Aussie hat.  I bought fruit.  No cafe, but we tried the ice-coffee in a brick pack. Surprisingly delicious.  Taking the scenic route to Albany, we saw even fewer cars and began to understand how empty Australia is. Dust dry fields, the stubble of grain harvested.  Raised water holes for live stock.  No farmers in sight, an occasional house shaded by gum trees.  Who farms this huge expanse of land? Occasionally an orange flowering bush.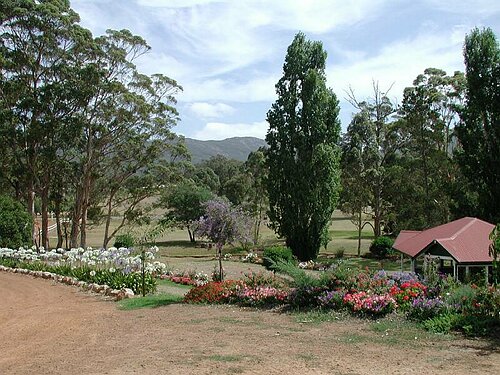 Then, the fata morgana of a gate painted white, a red clay path lined with huge blue agapanthus leading to a white wooden house with a large covered veranda, the Karribank Country Retreat.  A jug of cold water was served while coffee was being made, Colin sank into the wooden deck chair and I went to explore. Bungalows, some rather neglected, others in the process of renovation, set in a jungle of roses, delphiniums, honeysuckle, lavender, stock and clematis.  An English garden with the exuberance of the tropics. How I would have loved to cut out, cut back, pull out the suffocating weeds and simply melt into this throbbing wilderness.  The large dining room was as empty of guests as were the grounds, but cool and inviting:  dark chairs and tables covered with white linen, flowers.  Over coffee on the veranda we spoke to the proprietor - a thin, soft-spoken man in his thirties, with a dark pony tail and an honest face.  He had trained as a cook in Albany and had been able to buy this place - dilapidated, with a bad reputation - for relatively little. With the help of a few friends he was doing it up bit by bit. Did this gentle hippy have enough business sense, we wondered, to get this show on the road?  We were touched by his hope and naiveté and could only wish that lots of other travellers would stumble upon this retreat in time and place.
ALBANY, a former coaling station.  The ruggedness of this south western coast with waves beating ferociously against the huge rocks and blow holes emitting spray, with a wind to sweep you off the edge and the drifts of fog shrouding the shrub-covered hills inland, all made us feel the closeness of Antarctica. Yet sheltered from the open sea, there are sandy family beaches and pleasant walkways along the cliffs.  Albany feels English with its shops along Main Street, its Victorian houses fronted by small but well-tended gardens.  Devine's Guest House, run by Mabel (a competition bowl player) from Manchester and Fred from Scotland, very much reminded us of Grandma and Grandad's house in Coventry.  Michi looked for nightlife in Albany but came back very quickly.
Travelling along the coast, in DANEMARK, we hit one of the most beautiful beaches we were yet to see - immense rocks, sheltering a beach with smaller rocks and sandy rock pools of light green water. But it drizzled and the water felt cold. I bought plums in the village store - an old balance with metal bowls on a rough table, a jumble of boxes and bags of flour on the floor. Not a gold mine, but friendly.  The wooden bridge over the tree-lined creek painted black, white boxes overflowing with petunias and lobelia hanging along the banister.  A couple of canoes were pulled up on the muddy bank.  The local thespians advertised "The Pirates of Penzance."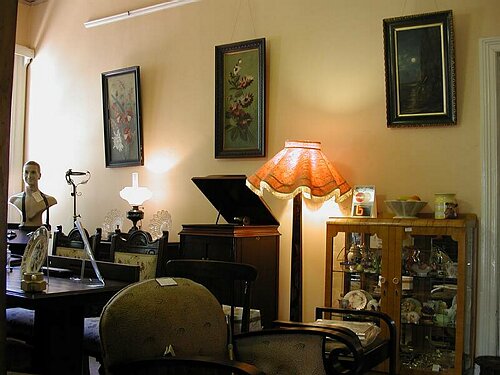 Lunch break in a wondrous place - antiques and junk living side by side in this rambling house.  A couple of velvet sofas, the arms and backs protected with antimacassars of white lace, crammed with garden utensils and books bound in brown crackled leather. Deep lounge chairs filled with oil paintings, army jackets, rolling pins and silver cutlery. An assortment of delicate dining chairs piled high with manuscripts, lace-up leather boots and porcelain dolls. On a desk of exquisite proportions, a collection of flashy swords, old reading glasses, a sea-farers compass, champagne flutes and sepia photographs. Leaning against the wall a well-used spade. In the garden, amidst weeds and tall grass, hibiscus and hollyhocks, statuettes mingled with fire hoses and rusty ploughs,  totem poles and roses in black plastic pots, herbs growing in an old suitcase, in the shade a rare breed of chickens scratching the earth.  We found the owner, the queen of this empire in the kitchen:  a woman in her thirties, plump, brown hair, warm smile, intelligent eyes.  We ordered cheese, pickles and crackers.  I wanted to sit under the trees on the green and white-striped sofa, but Colin preferred the relative coolness of the veranda with its reed armchairs and small round tables covered with crisp white linen.  "The place is for sale," the woman told us as she brought our tray.  "It has just become too much." Her father, an ardent collector, was inflicted with arthritis, her mother requiring extra care.  Following Fred's recommendation we took the scenic route to Margaret River through ancient forests.  As always we were on the lookout for roos (kangaroo is not a word Aussies use).  I was doing rather well having spotted one live roo whereas Colin had only seen two dead ones so far.  But it was afternoon, too hot even for roos. Then Colin slammed on the brakes as a large black lizard - a goanna - ventured onto the road.  A plum-wine farm is where we stopped for iced-coffee and a pee.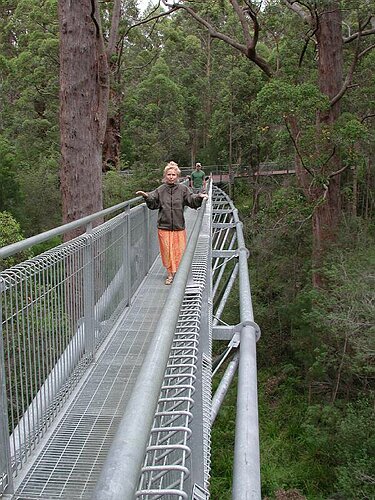 PEMBERTON - a couple of hundred wooden houses and two railway crossings. Glenhaven B&B a real delight.  Country style, spick and span.  Jim and Jackie, the owners, came from Edinburgh.  Jim, a medical scientist, had run a lab in Perth. He was the perfect host - tea and scones when we arrived, sherry before dinner, brandy after dinner. Dinner in `town' was a bland, salt less, tasteless affair. Colin and Michi spent half the night piecing together a three dimensional wooden puzzle. I went outside to gaze at the stars.  Pointing at a large one low down in the sky, I asked Jackie what it was called.  "Askjim," she answered. Now I know. The breakfast of bacon and eggs, sausages and mushrooms was carried in with great formality. Only the piper was missing.
The area is famous for its ancient jarrah woods, magnificent giants.  A popular tourist attraction is the 63m high fire-lookout tree.  With pegs in the trunk and a rope for safety it can be climbed - a challenge Michi was eager to meet. The Tree Top Walk is another - metal walkways stretching from girder to girder, 70m above the ground.  Afraid of heights, this was my challenge. Gripping the rails with both hands and looking straight ahead, rather than down through the grid, I was doing just fine. Certainly as long as Michi didn't make it sway too much.  I was so proud of myself.  But I think it was safe for wheelchairs.
MARGARET RIVER - As it was the weekend and still Christmas-summer holiday none of the nice garden B&Bs had space for us. We could see ourselves sleeping in the car or driving on into the Australian night, when we were told of a brand new luxury apartment house just opening up (and for that reason even had a special!).  Rather than a crammed car seat we ended up with a two-floor apartment - kitchen, laundry facilities, dining and living room, a deck downstairs, two bedrooms with spa bath upstairs.  Michi was delighted, he had lots of dirty laundry.  We went shopping to the supermarket next door as if we were staying for two weeks instead of two nights.  Michi barbecued steaks, baked wedgies, boiled corn whilst Colin and I enjoyed a pre-dinner glass of wine in the spa-bath.  It's nice to have kids, we thought.
font-family:Arial;'>Margaret River is an up-market resort town with boutiques and galleries to match.  But Colin has a way of racing past these - anywhere in the world - so that I usually know more what I've missed than what I've seen. With Michi interested in clothes and sunglasses I got to see the insides of a few shops - at least as long as he was with us.
The beach is a surfer's paradise and we spent a few fun hours watching the wind surfers arrive, unload their extensive gear, don their rubber suits, carry the board and run down some stairs, step on the board and then swoosh out over the rocks to be carried away at great speed. Thrilling.  There was one surfer with a parachute, he lost his board and was carried away above the water a long way down the beach.
Along that coastline are numerous limestone caves, a few of them open to the public. We got to Mammoth Caves not long before they closed and hence were the only people meandering past well-lit stalactites and stalagmites in this vast underground cavern, the only sound water dripping from the ceiling.
The lighthouse the next day had a surprise for Colin. Built on a very exposed piece of land jutting out - the most western spot - the wind made it difficult, at least for me, to walk around the viewing platform. The keeper who had climbed up with us (we were once again the only visitors) explained the way the glass focuses the light - first candles, then oil lamps, now of course electricity - and then refracts it. The well-polished equipment, to Colin's delight, was made not far from his home, in Birmingham. A network of paths cut into low shrubs lead down to the whaling station (unfortunately not the right season). After an hour and not a soul we came to a lookout.  There, two young people were discussing the scene - in Swiss German.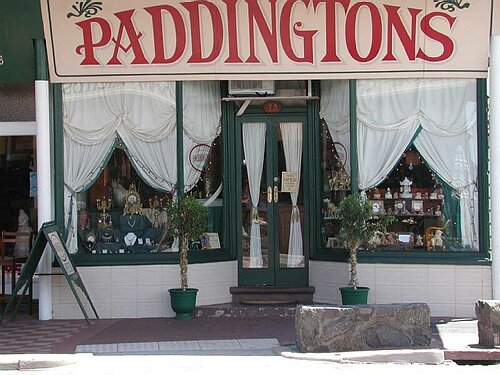 On to BUNBURY - a bustling, modern town.  In a street cafe we ordered coke and coffee and I spent ages looking for the toilet around the back of the building. When I found it, open to the general public, it was free and very clean - a positive, and not unimportant, feature that was to repeat itself throughout our trip. Walking down tree-lined main street, I spotted a silver bracelet - a perfect match to the necklace and earrings Colin had bought me in Zurich. Michi came into the shop with me and left quickly.  All that sweet scent made him sick, he said.  I just remember that everything was in pale yellow.
BUSSELTON.  The award-winning garden B&B is full, but next door at the Jacaranda Guest House we strike lucky - a suite consisting of one room with a queen size bed, another with a single bed, plus shower for $135 including cooked breakfast.  Trish, the owner asked where in Switzerland we're from.  Near Zurich, I answered. Tuggen? she replied. A village the size of a postage stamp, Tuggen is not much further than five miles away from us just over the Buechberg. An Australian friend of hers lives there, she visits regularly and has even been to the Fastnacht in Galgenen!  Jacaranda does its name justice.  The garden is small but dripping with flowers (Trish gave me some hollyhock seeds).  She also had a duck family with chicks just a few days old.  Michi loved those.  As the sun went down, the air turned cool and the hot tub surrounded by hibiscus and white solanum became my haven for a sweet half an hour. A glass of wine would have been gilding the lily but nonetheless hoped for. Stepping out of this embryonic fluid into the evening breeze was true hardship. Trish recommended a restaurant with a strange name but striking decor - sparse, modern, a few pieces of old furniture, the walls grey, in frames handwritten official orders more than a hundred years old.  The food was equally striking. The shrimp arrived flaming! Michi was still in his hungry phase, so had three courses.  Colin loved the company.
Afternoon stop at MANDURAH.  On the outskirts, building sites, kilometers long and wide. This must be the way that Cap d'Agde and all the other French artificial resorts were drained and concreted out of swamps.  The cultural center, brand new, was striking: a lot of glass sitting on the water.  The carpet still oozed the new-nylon smell but I liked the design of waves.  The art show was more suited to a church bazaar; the entertainment program featured an Elvis Presley show, a pair of comedians, and in May, one evening of Alvin Ailey, but we were still in January.
Last night in Perth.  We dropped Michi's bag off at a backpacker's place and then fed him for the last time in Australia - a big plate of steak and chips in a beer garden.  We had spent a very good two weeks with him - a gift to be remembered.
ADELAIDE - as we exited the plane a wall of hot air met us and I kept thinking someone forgot to close the damn oven door.  Everything appeared lower in Adelaide, the houses, mainly two-storey Victorian with a porch and an intricately decorated metal roof, the streets almost disproportionately wide lined with trees. Roses everywhere, along the roads, in the front gardens. To the north brownish hills in the haze.  Whereas Perth struck us as a modern up-coming bustling business city, Adelaide seemed more low-key, more colonial. The Art Museum of Southern Australia seemed a good place to spend the hottest part of the afternoon and we were rewarded. The old part, housing the more traditional art, didn't have us linger, but the large aborigines paintings on a light-flooded landing connecting the new part was stunning. I kept going back, particularly to a pair in orange, white, yellow.  Downstairs we stumbled upon another gem - a Cartier-Bresson exhibition.  Not only were the photographs remarkable in themselves - portraying each person's soul and character in a most uncanny way - (Ezra Pound really had Colin nailed to the floor) but Cartier-Bresson also knew everybody in the art there was to know (Gandhi, MacMillan were two of the few non-artists there). The thumbnails - brilliant summaries - made the photos even more meaningful.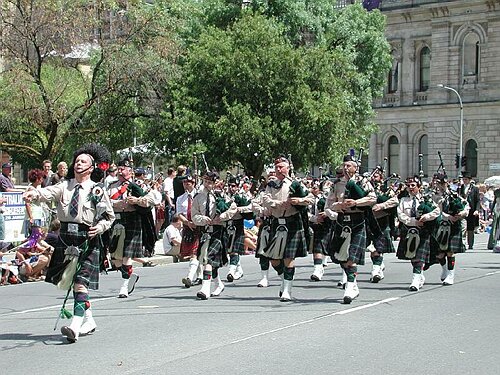 AUSTRALIA DAY - the 14 minute tropical downpour of the previous evening had broken the heat and the temperature was pleasant. The Scottish pipers with their bearskins leading the procession must have been glad for the change, too. After the pipers came the dancers in their kilts. It wasn't a month since we had seen them in snowy, grey and freezing Stirling and here they were coming down a wide avenue lined with tropical trees. They were followed by a succession of old and new army vehicles and fire engines of all periods. Then the ladies and gentlemen in period costumes riding penny farthing bicycles (some of the riders were in their high seventies!), German settlers in Tracht, Italians, elegant Spanish women dancing down the street, and then - Colin had tears in his eyes - a group of old Humber cars, all lovingly maintained, made in his hometown, Coventry. The daytime fireworks were a real surprise of colours in all shapes shot into the blue lunchtime sky.  This was, of course, the ideal opportunity for politicians to tell each other how wonderful they were and, standing at the very front by the rostrum we could feel the hot air emanating from their mouths. There were just a few we would trust- the mayor, an Asian, was one. The Aborigines in the procession (the Asians also), they were now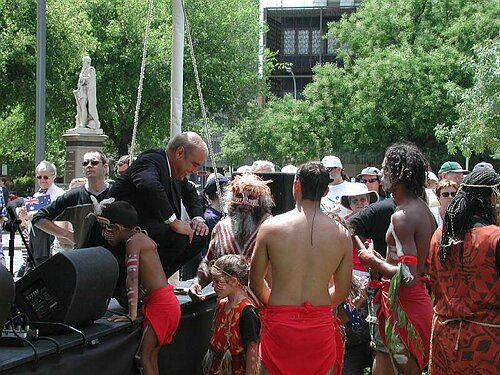 'the entertainment.' I don't know if it was the grass rather than their red earth, the tall stately buildings surrounding the square, the well-dressed all-whites surrounding the performers whose brown skin was covered with mud and paint, dancing to invoke the rain or the grace of eagles – but there was an incongrinuity that took away the dignity of these men, women and children. Or maybe it was the slimy politician thanking them, that gave us the sneaking feeling they were being used - abused for some show not on the written agenda.
KANGAROO ISLAND - we left Adelaide bus terminal at some very early hour, but the light was exquisite, almost translucent, it was worth it. The 90-minute drive to Cape Jervis took us past vineyards, rolling hills, roos grazing under trees. The passenger and car ferry was very new, the toast and coffee international 'ferry standard'. In 40 minutes we landed in yet another world. 155km long and 55km wide, the island is mainly empty except for a few tiny towns. To our disappointment kangaroos were not standing by the side of the road waving us by as the name of the island led us to expect; in fact we had to go to an animal orphanage to see any. They are quite an impressive size, and I understand now why so many cars in the south and west have a protective bumper like a cow fender at the front. These animals clearly can do serious damage when they are hit, which - we were told - happens mainly at night. To the Australian farmer, the roos are a real menace. Being able to jump so high, nothing can stop them from entering and munching and stomping their way through a field. This information in no way deterred the women of the tour from wanting to hold and cooing over the baby roo in the sheepskin bag (mothering instinct, clearly!). I also enjoyed feeding the wallabies, a smaller kind of roo, their soft moist nozzle burrowing into my hand. As for the koalas, by eating all the leaves and the bark of the gum trees they live on, they eventually kill these trees, and if given the chance, entire forest. Up there in the trees, asleep in a fork, they look so cute and cuddly. But down on the ground (we were with them in a small enclosure) I did not want to get too close because of their impressive big and sharp claws, particularly when we were told of the lady with dark brown pants that the koala mistook for a tree trunk. He climbed up on her legs and they couldn't get him off because he had dug his strong claws into the brown pants/flesh/tree trunk. She eventually needed medical attention for the deep cuts and scratches the koala had inflicted in the process.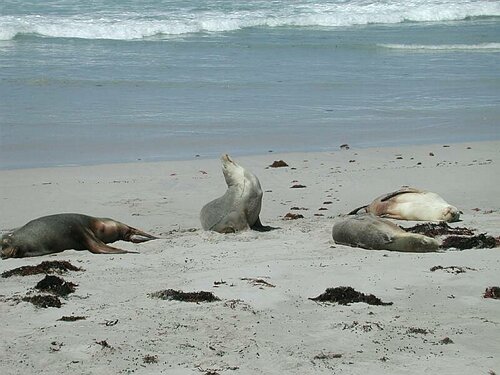 Nature on Kangaroo Island is grand. The Remarkable Rocks are indeed remarkable. At Admiral's Arch, the sea surges with enormous strength under the rocks, hundreds of New Zealand Fur Seals sprawling on rocks or surfing the waves. Each platform offering an even greater spectacle. At Seal Bay, a National Parks guide took us within a few meters of the much rarer, Australian sea lions resting on the sandy beach. Massive, some over 200kg, they may look slow and placid, but the guide made sure none of us got too close, they can get angry.
Normally unwilling to join tours, (it would have been very complicated to do it on our own as car rental companies do not allow their cars to be taken across) through our driver cum guide, Alex Buick, we gained insights we would not have had we travelled on our own. Alex, now in his fifties, was born on the island, had always lived there and had been a sheep farmer as were all the others at the time. When the price of wool collapsed some years back, Alex was not the only one to go bust. As a single father with a son at university, he had to find some steady income and so went into the only money-making industry on the island, he became a driver for tourist buses. His neighbour looks after the farm the days he is driving. Blessed with a good sense of (of course, British) humour, a good memory for details and dealings, empathy and respect, he gave us a glimpse into LIFE on Kangaroo.  Some of the farmers, who could raise the money had  started vineyards (it takes five years until the first bottle can be sold), others had to find new means of making a living becoming pioneers once again. We visited a eucalyptus farm where everything from the vat with the boiling leaves, the drums receiving the concentrate, to the machinery purifying the oil, is recycled material rebuilt for the purpose.  All side products from the ashes to the heat emitted in the process serve another purpose, nothing is left to waste or pollute the environment. The business is thriving, the owner almost illiterate. Colin reminded me of Somerset Maugham's story, The Verger. "Just think what he could have done had he been able to read?"
Then there is the sheep farmer who found a niche producing sheep dairy products. Half an hour down a dirt road we came to this farm where the milking machines were connected to a computer keeping a check on how much each sheep produces. Where the young woman running it talked of her marketing strategy as we sampled the products, handing us a list of shops  in Australia (or Northern Island, as the Kangarooians call it)  where the products can be purchased.
The third visit was down another red dirt road for another hour to a honey farm specialising in breeding Ligurian bees that were first brought there in 1881. With no other breed able to reach the island, it is the ideal breeding ground. They now mail queens - enclosed with a few workers in a match box - for $25 all over the world, even back to Liguria as there the original bee population has since been contaminated. The honey ice cream was delicious too. `Commercial' as these visits had been, we learned a lot about the pioneers that made and are still making Australia. And respect for their creativity, inventive- and stubbornness is what we left with.
Back on the main road, (I don't think we crossed 10 cars in two days), we came to a junction with a motley collection of fridges posing as mailboxes.  Trust Colin to think they were there to receive chocolates!
We had no idea that such small penguins existed! Walking around the rocks with a guide using an infrared torch at night - they don't come out during the day - we saw them standing in front of their hole, not much bigger than a big hen. They looked so endearing, their white vest gleaming in the dark. Three of four times a year they leave the sea to shed and re-grow their feathers. During this time they lose 30% of their body weight as they cannot go back into the sea to fish until all of the feathers have grown back and are water-tight once more. So there they stood, airing their growing coats. With the guide we had seen just a few, but having learnt the sound they make, we found the bushes right around the hotel were full of them!
The night was freezing cold, after the heat in Adelaide we had not taken any sweaters with us, my teeth were chattering, yet we could not tear ourselves away from this enormous night sky over and around us. No lights polluted the dark, the sky was black, black, the stars brilliant, and we a nano-speck gazing at this wonder.
Back in ADELAIDE for one more night, I decided to do the laundry as long as we had access to a machine.  The tap connecting the water pipe to the washing machine seemed strangely loose so I called the expert to check it out.  Colin opened it – not realizing it was open already - the tap came off and a fierce jet of water surged out of the pipe.  In no time the bathroom floor was flooded. Colin was trying desperately to get the tap back on against the pressure of the water, I threw down what towels we had trying to stop the water from flooding the bedroom and ran down three flights of stairs to another building to get someone to turn off the water main.  It was after 10 on a Sunday night, the young man in charge was of the delightful "no worries, mate" type and no matter how hard I urged him to hurry he took his time to walk up the stairs. Confronted with a Colin almost out of his mind, the bathroom well flooded, and the bedroom carpet starting to darken with the water, he could think of nothing better than to open the box for the electricity to check the fuses.  It must have been the helpless ineptitude of this guy that gave Colin the strength to get the tap back on, but HE DID IT!  Then we had to mop up the water and still do the (damn) laundry as by then everything was wet, the clothes we were wearing, the clothes on the floor.  But happiness is relative, and in this case happiness is a tap that stays on. We were busy till well into the night.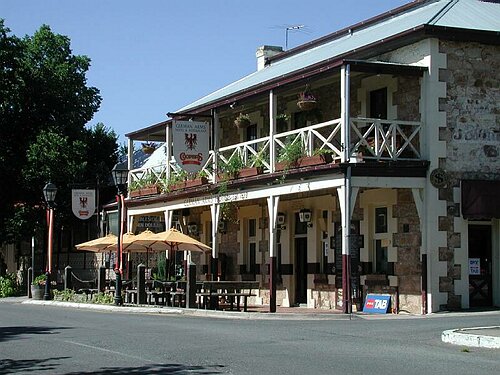 Next morning we started our drive to Melbourne.  First stop HAHNDORF, a German village in the Adelaide hills.  Geared for tourists but blissfully empty that morning, we meandered along tree-lined main street, over cobblestones uneven with time, past tiny front gardens. The houses, low and well-kept, many of them shops, art galleries or cafes now,  still bore testimony to the craftsmanship and caring of their German builders.  Walking through the historical museum was like walking through my past – my china doll complete with lace cap and eyes that I used to push in (only the doll man could get them back out), my school bench from Bavaria complete with ink pot and names scratched into the wood. The coffee mill could have come straight from my grandmother. I remember how it felt holding it tight between my legs, the corners digging into my thighs as I turned the handle; the movement jolting and halting as beans got stuck, the crunching sound, the coarseness of the coffee, the aroma, and above all the special air of a special treat. My grandmother's washboard was there too, as were her wooden kitchen tools and cast-iron pan for frying small pancakes, her hand-sewn, embroidered white-cotton pillow cases. The men and women in the sepia photographs were well-groomed, clean, hard-working, bearing close resemblance to my own ancestors. But to see these faces looking at me in a small town in South Australia seemed more than strange.  The coffee we drank next door tasted of more beans in one cup than my grandmother could buy in a month, the lemon cheesecake was good enough to be my mother's.
Only when we got to STRATHALWYN 30 miles down the road did I realize I had left my bag with my wallet, Swiss ID, credit cards, some cash hanging on the back of the chair in that cafe.  We drove back, tyres squealing, Colin "showing remarkable restraint" as he pointed out but "reserving the right to use the incident against me at a later stage!" I dashed into the cafe, a smiling lady handed me the bag "we thought you'd come back for it!" I must remember to make a donation to St. Anthony - the patron saint of the people who lose things.
The MURRAY RIVER - Australia's largest river - we crossed by ferry - free, quick and efficient, a cable pulling us across.  Past vineyards, salt flats to the endless sand dunes and lagoons of Coorong National Park. At a bird watching station we looked through large binoculars (free of charge AND working) at pelicans breeding on a tiny island way out. To feed these pelicans fly 70 miles - one way - to where the Murray river enters the sea. The salt water stuns the fish coming down the river, making them easy prey for the pelicans.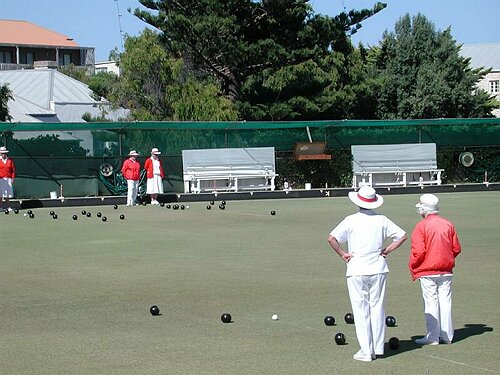 A night at ROBE, an old fishing port, in the Caledonian Inn of l898.  Colin enjoyed the steak, I just wanted to be at home in my bed, sipping hot milk with honey, nursing my cold in comfort.  At least the two men at the next table felt like talking, and even though they definitely were not our type - thick upper class accent, "never did a stroke of work in their lives" Colin said - they gave us the address of a great place in Sydney. Next morning we took our breakfast to a wooden table at the water's edge watching a class of youngsters having a swimming lesson. Over the hedge the other side, we looked into old England - a bowls game in progress, the participants all neatly dressed in white and red uniforms.
On to MILLICENT and the only three boring hours of the two months in Australia while we waited to see a doctor (the colds were getting to both of us and I had a fever). The farming museum, fascinating as Colin found it, only took care of 2 of the 5 hours we had to wait. Short as the encounter was with the very personable doctor from South Africa, it was not devoid of meaning. Officially retired he was working for an international medical association placing medical personnel in understaffed areas. He spoke of his fascination for the land. Our prolonged stay in Millicent had also given us a glimpse into small town Australia.  Driving into it, we had said what a nice little town it was. Five hours later, we couldn't wait to leave.
MOUNT GAMBIER - a pleasant, biggish town built around a 5000-year old extinct volcano. The blue of the water in one of the craters has an intensity that is remarkable.  Stranger still, in winter the blue changes to steel grey.  And strange again was the `garden' deep down in another crater, the .....  high walls grown with ivy to a thickness of more than a meter. At the bottom roses, agapanthus, hostas and big blue hydrangeas.  An old wooden rowing boat on a ledge. Not a soul, the sounds from above muted. Half an hour later and we sat surrounded by Ireland - photographs of Irish doors and Irish families, drinking Irish beer, we enjoyed our steak and chips at the Irish pub. The Best Western on the main drag leading out of town was convenient and reasonable.
We stopped at PORTLAND because I had seen the gardens of Burswood Homestead featured in Country Gardens.  An elegant wrought-iron gate opens onto a gravel drive lined with huge agapanthus, around the bend the wooden veranda of a 19th century mansion. Paint peeling, doors shut, flower containers empty of flowers, there was an air of lostness about the place. We rang the bell and waiting for someone to answer it, I spotted a man on his knees weeding a rose bed. It turned out he was the proprietor and glad to stretch his back for a chat. The roses clearly had not been pruned properly for years, lanky and almost leafless, they were in a pitiable state. Weeds were sprouting in the dry earth between the bushes. Looking at the expanse of just the rose garden, at the man and his hand trowel, I was tempted to stay and work. Soon his wife joined us and we got the story of yet another set of pioneers.  Built in 1856 for Edward Henty, textile manufacturer from England and Victoria's `Founding Settler,' Burswood Homestead at its prime was tended by a staff of 34.  Now it is two people, the man takes care of (or tries to) the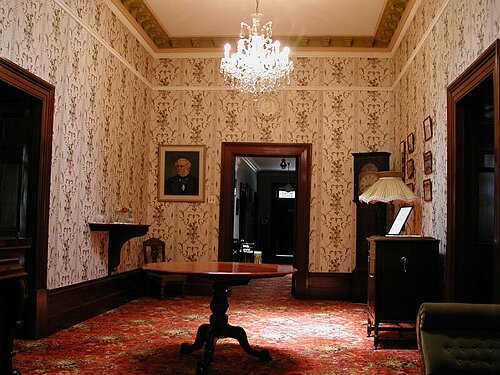 12 acres of ground, the woman runs the home as a B&B. Proud of their property, they showed us around the house, the elegant rooms in impeccable state, furnished with exquisite antiques, large sumptuous bedrooms, chandeliered dining and sitting rooms, impressive. Their investment of time and money showed. Now they were hoping to fill it with guests to be able to pay for a gardener to work the grounds. There the beauty of the plantings is still tangible but nature is regaining the ground fast, vines strangling old ramblers, weeds smothering flower beds and walking paths. Sad. Be a guest and save a flower bed!
Upon their recommendation we drove to the lighthouse for a lunch time snack. And there 15 miles off the beaten track, we found this small cafe:  slate covered floor, wooden beams, simple furniture. We were served home-made bread and pickles, sun-dried tomatoes, good cheese and a fine espresso.  The free ice-cold tap water came in a bottle of frosted blue glass.  Once again, we were the only guests.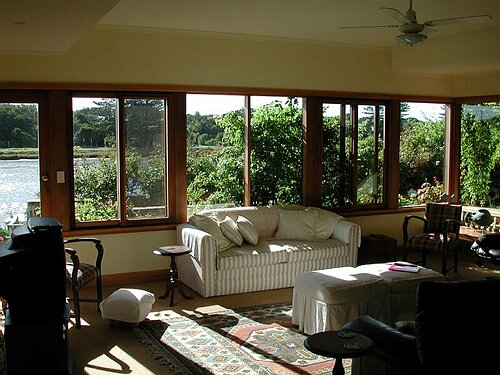 Making a beeline to PORT FAIRY we were charmed by the village and decided to stay.  The Goble's Mill House had one room left - roadside albeit - but we grabbed it.  Easily the best run, most elegant inn of the trip, Colin lugged our two suitcases up the narrow, carpeted stairs. The room had the touch of a private guest room.  I made myself a cup of coffee and took a wicker chair down to the little garden at the river's edge.  The river at my feet, climbing roses - New Dawn and Mermaid - at my back, I had no desire to move.  Colin explored alone and then we explored together.  Beautiful houses with equally beautiful gardens sloping down to the river, sailing boats, the sea with nice beach over the dune - there is nothing this place lacks, even the dinner in the Dublin Inn was an exceptional pleasure.  How did we find this place?  I think Colin did.
It was already very hot when we left.  All the grand vistas along the GREAT OCEAN ROAD (for the first time we were aware of other tourists) were spoiled by the flies that attacked us every time we stepped out of the car.  Getting into nostrils and ears and eyes, our main focus was on frantically hitting the air around us instead of taking in the stunning beauty of the different rock formations this coastal strip is famous for. Fanned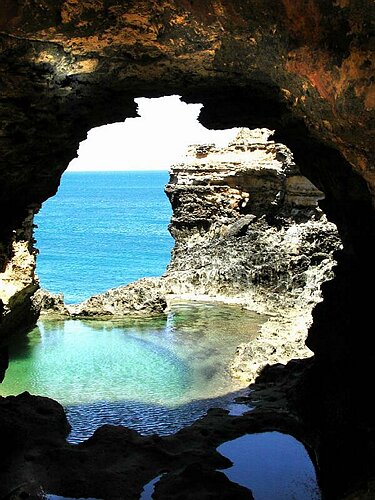 by the heat and offshore wind a fire hit this area the very next day and some tourists were trapped.
We drove on to APOLLO BAY - the southernmost point of our trip - and found a room in the recently renovated Great Ocean View motel.  The view indeed is great.  The carpet in the room the same turquoise as the sea just below, a white wooden balcony with teak chairs inviting us to sit and stare.  A recommendation from fellow guests in Port Fairy lead us to an Italian open-air restaurant on the second floor overlooking the beach.  Wicker chairs, round tables, jazz, the food creative and delicious – we couldn't believe our luck. Getting back to the motel the woman who runs it was sitting outside on a window ledge nursing her baby, two boys 2 and 8 on one side, a girl, maybe 5, sitting on a stool in an old-fashioned white cotton nightie, frills around the neck, deeply immersed in a book.  The husband - a big man with an open honest face - is a builder.  They bought the place and are doing it up bit by bit. Sitting there, they had everything.
QUEENSCLIFF - at the mouth of Melbourne bay.  A surprising presence of Italian palacci/cloisters, not `cutified' with colours, the grey stone, tall windows, arcades and columns exude the dignity of classic design, framed by the dark green of the ancient gnarled cypresses, the walled-in garden locking it into space and time.  A long avenue of old trees, in their shade cars parked unevenly over roots. Nestled in a side street, the `Artists' Cafe.' Inviting as the garden was, even I found it too hot to sit outside and we opted for one of the small tables behind the glass walls.  Cool air, cool jazz and ice coffee made this a pleasurable break.  The salads looked appetising and we wished we hadn't eaten a sandwich adjacent to a busy shopping plaza in Torquay - Melbourne's closest seaside resort.
The ferry ride over to SORRENTO turned into much more of a journey then we had anticipated, 40 minutes or so at high speed. On our map there's hardly a gap. Villas - impressive and large - dotting the cliffs on the other side. We've never been to Sorrento in Italy, but the name does it proud. If you have the money, there is clearly no shortage of agreeable places to live in Australia.  The hour-long drive up the Mornington Peninsula to Mount Eliza is along a flat sandy beach and on this Sunday it was brimming with people - in the water, picnicking on the sand.
Our detailed map got us right to Janet and Mike's house in MOUNT ELIZA.  Janet is Colin's cousin on his stepmother's side.  The last time, and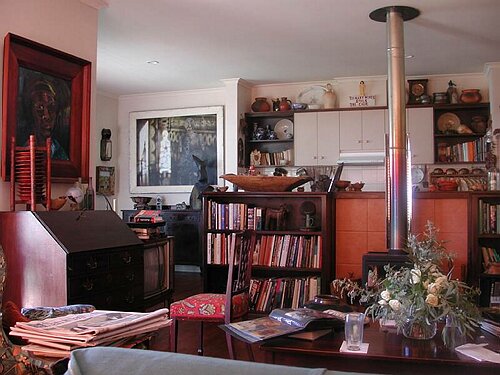 only time, we had ever seen them was when they visited us in Galgenen on their year-long trek through Europe in 1975.  Invited to stay, we were both rather nervous, would we recognize them, would we have anything in common, would we like each other?  We did not recognize each other, but we found we had lots in common (particularly Janet and I) and as for liking each other - there we can only speak for ourselves - our sense of loss at leaving them is proof of how close we'd become after just one week. Janet and Mike both are artists, not only in their paintings and sculptures but also in their way of life.  Their home is a complete piece of art: their own works, those of friends, ordinary objects that have become art in the way Janet placed them - a comfortable, unforced, livable, lived-in art, a privilege to share.
We spent hours on their deck watching the many different birds landing on the feeding table - the green/red/blue parakeets, the noisy miners, the odd kookaburra. In the distance, the sea seen through airy eucalyptus trees. We ate well, drank well, talked and talked, their views of the world and their experiences stimulating us to think new thoughts. `Sternstunden.'
Janet took us to Arthur's seat high above Mornington. And there we came across the very rare black Victorian snake slithering across the hot tarmac. "Oh, look at that snake!," we all shouted simultaneously. It was the shadow of the cable car above.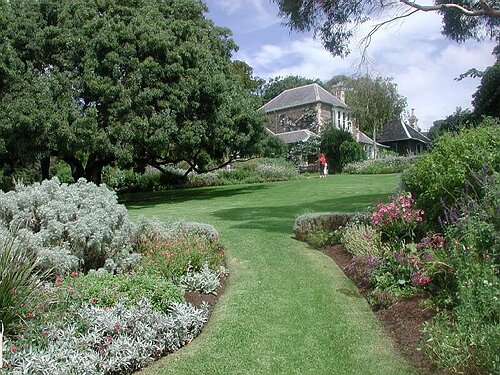 HERONSWOOD in Dromana was the garden of all gardens:  colours, shapes, textures all made for one diverse and yet composite picture.  Awe and admiration filled my soul.  The plate of home-made antipasti - eggplants and peppers roasted, then marinated in olive oil - feta and fresh bread were yet another surprise in this already perfect place.
Of MELBOURNE we did not see everything, it was just too hot.  Driving around in the air-conditioned car at least gave us the impression that we would like to have lots of time - when it is cool - to walk and explore the many-faceted city.  We did walk along Victoria street with its quirky cafes and avant-garde (yet inexpensive) shops, the Artist Garden a heaven of objects d'art for the outside But with only two suitcases for two people, Colin for once was safe and I just looked.  St. Kildare, The place at the sea, we could take or leave, very busy, very "in", and very ordinary.
We were sad to leave Janet and Mike but felt immensely richer than when we had arrived. Having experienced so many highlights already, we could not believe that anything would surprise us still.  But SYDNEY did.  And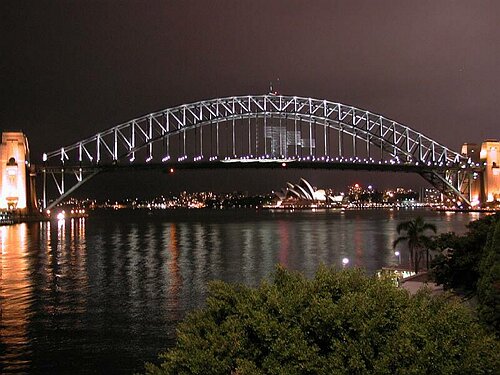 above all, the view from the Harbourside Serviced Apartments at McMahons Point.  Recommended by the two English gentlemen (not of Verona) at the next table in Robe, we could not imagine a more perfect place - the furniture and carpet in light unobtrusive shades, a kitchen corner, large windows with a vista more spectacular than all the postcards we had seen. Lying in bed we had nothing but the bridge in front of us, with an extra pillow we could see the opera house underneath.  Waking early we could see the sunrise through the bridge, during the day we watched the ships and sailing boats and tour groups clambering on top of the bridge, their silhouettes against the sky. We were there for a week and never got over our luck to have found such an exceptional place.
To go anywhere, we'd jump on the ferry just below.  Like living in Venice. I found a reason to walk through the Botanical Garden on most days - a well planted park. At the entrance there's a sign inviting people to enjoy the plants, walk over, sit and lie on the grass, hug the trees. We had lunch there in the cafe fascinated by the big egret-type birds that landed the tables as soon as people left to pick off the food left on the plates, fascinated also by the lady and her `crown' of fresh Hibiscus, her sari dress the same shade of pink, her dignity. Michi's birthday - February 12 - we celebrated (without Michi,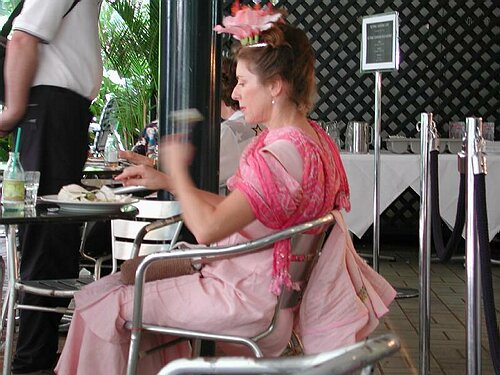 alas!) by going to the Opera to see Cosi fan tutte. Good singers, well-designed set, a very nice evening.
The vast aquarium must be one of the best of the world.  Most amazing the underwater tunnel where we found ourselves surrounded by sharks and stingrays.  And Colin got to see the duck-billed platypus he'd learnt about at school (it was smaller than he'd imagined). Next door was the Maritime museum - a total washout, except for the tour that took us on rebuilt Dutch ship of the 17th cent (the original had been wrecked along the Fermented coast, part of the hull was discovered under the sand and exhibited in the museum there. The tour guide succeeded in painting a very vivid picture of the living conditions on board - the beer that began to ferment not long into the journey, the vermin infested food, the toilet facilities, the soldiers destined for the Dutch colonies lying on bunks in the dark except for the half hour on deck twice a day. Discipline was strictly enforced.  The punishment for sailors that happened to use their working knives on one another was as follows.  The culprit had one arm strapped to his side and the palm of his working hand was nailed head high to a bulkhead with his knife, the sharp edge of the blade pointing upward.  He was then forced to free himself.  There were two established techniques.  The first was to wriggle the hand until the hole in the palm was large enough for the handle to pass through. (Slim-handled knives were very desirable at such times).  The second was a sharp, downward pull . . .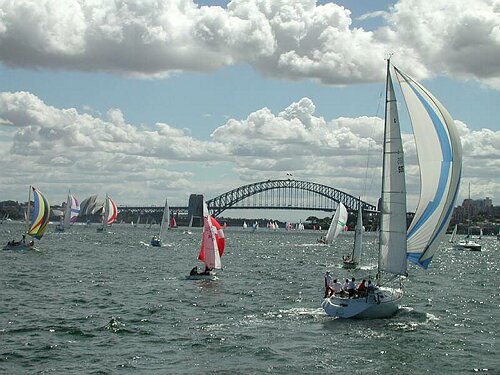 What really blew Colin away was the return trip on the Manly ferry on Saturday afternoon.  Coming from the sea back into Sydney, the river - more like a large lake - was full of sailing boats, a stiff wind had them leaning, their sails billowing - what a sight.
For our last leg we flew to BRISBANE, rented a car and drove a good three hours up north to HERVEY BAY.  It was dark when we arrived, drizzly, the roads so badly marked, we could not find the main drag with all the hotels. We kept going around in circles, finally had to stop and ask.  The motels looked dismal, we were tired, at least we found a restaurant that was open on a Sunday night, until 8. This was not what we had left Sydney for.  We found a room, the cheapest on the trip, $50 for two, very simple, but the sheets smelled clean. Too tired to read, we flicked channels. And there, Colin could not understand my excitement, was a film at least 45 years old, that my parents used to love. `Opernball,' a corny story, undubbed, with Hans Moser, the then-famous Austrian comic, mumbling his Viennese. We had watched it so often, I knew the lines. Colin thought it was awful, I was fascinated.  It brought back the good times, my mother and father's laughter.  But what a place to be hearing this quaint dialect, watching a plot so naive and simplistic nobody could possibly find it interesting or amusing these days. Who were the audience?  Incongruous - once again.
Next morning the sun shone and it all looked different. We decided to walk the 11km from where we dumped the rental car to the ferry harbour and did it in not much more than 2 hours. Not bad, we said.  There were dolphins played around the ship when it was barely out of the harbour,.  45 minutes later we reached FRASER ISLAND - 170 km long, 30km wide, the biggest sand island in the world and mainly uninhabited.  We had a room in King Fisher Bay resort that prided itself on its ecology.  Set among trees, it was like living in the jungle, our deck gave onto a pond. The downpours were impressive, most of the time it was grey (Colin was glad as it kept the temperature down a bit) but we still found it fascinating.  The tour around the island in a four-wheel, 12-gears bus over roads with sand as soft and difficult as fresh snow, holes big enough to get lost in, was interesting and fun. Hilly, ancient forests growing in the sand, it was unlike anything we had ever seen.  In the very center Lake MacKenzie, a dark blue jewel of sweet fresh water.  The next day we hiked up to the lake from the resort, 12 kilometers or so. Where the sand was firm it was easy, but there were bits - mainly uphill - where the sand was deep and soft and walking was very strenuous. Except for two young men who were on a 220 mile hike (!), we did not see a soul, not even any of the dingoes that live there.  At times it was just a bit creepy to be walking alone in this forest, we were glad to reach the lake.  Colin had saved his beer for this glorious moment, I could not wait to get into the water.  Back down we went by bus.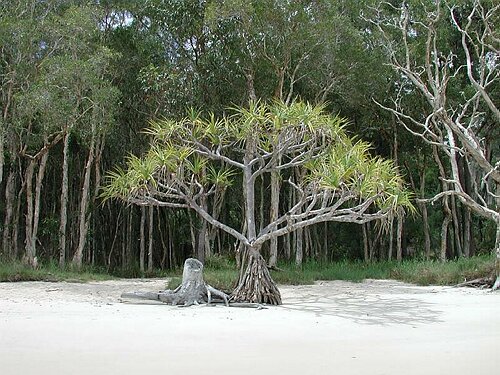 Another day we canoed through the mangroves at high tide.  There were eight of us and a very knowledgeable guide.  The canoe felt rather unstable, we had never paddled together and it was quite surprising we still came out as friends.  The hotel was fairly empty, which made our stay just that bid exclusive.  Twice we had dinner on a deck bordered by dark trees, candles lighting the tables, the crickets louder than the background jazz - little events.  Another night we talked to a young couple who had gotten married on the beach the previous day. They had arranged for a vicar to be there and a photographer, of course, but no family or friends. As witnesses they grabbed a couple walking by.  "And then we had tea," the new wife said.
The five nights on Fraser went by quickly.  Back on the ferry, I felt the sadness that comes with the approaching end of a fantastic journey. Our last rental car took us down the coast into NOOSA - a trendy resort where we had intended to spend at least one night. But after Fraser we couldn't take all the traffic, the people, the bistros and boutiques, and drove straight through. We found a nice room in a high-rise right on the road further south, the view from the balcony was stunning. But it was hot, we had seen so much, Brisbane seemed a lot of work. So Colin decided `to chill out' at the beach for the last three days rather than see the city. A wise decision. Twin Waters resort was ideal. Luxurious but off-season it was great value. Our room gave out onto grass, flowering hibiscus, then the pond.  Colin played golf one day. I did what I had been wanting to do for two months - walk along the beach, pick up shells, sit in the shade of a small tree and just let my eyes feed on the turquoise water, the waves breaking, watch school kids surfing, a dog carrying an overlong stick, tasting the salt in the air, tasting time. Delicious.
We took a short drive through BRISBANE - an attractive town on a large river, then boarded our Qantas flight. It took two hours just to cross Queensland. The landscape was ever changing, cultivated fields quickly gave way to woody areas, hills barely green, red deserts. Thunderstorms from above, lightening shooting downwards, rainbows from above. Emptiness. Thin red lines cut into the crust of the earth, a cloud of dust marking the presence of a road train. My book remained unread. Five hours into our flights we reached the northern coast and with it the first signs of civilization, the airfield of a small town. The white crest of a wave breaking along a woody coastline and we were over the sea. Our last look down on a surprising continent.  Australia had grown on us.

-